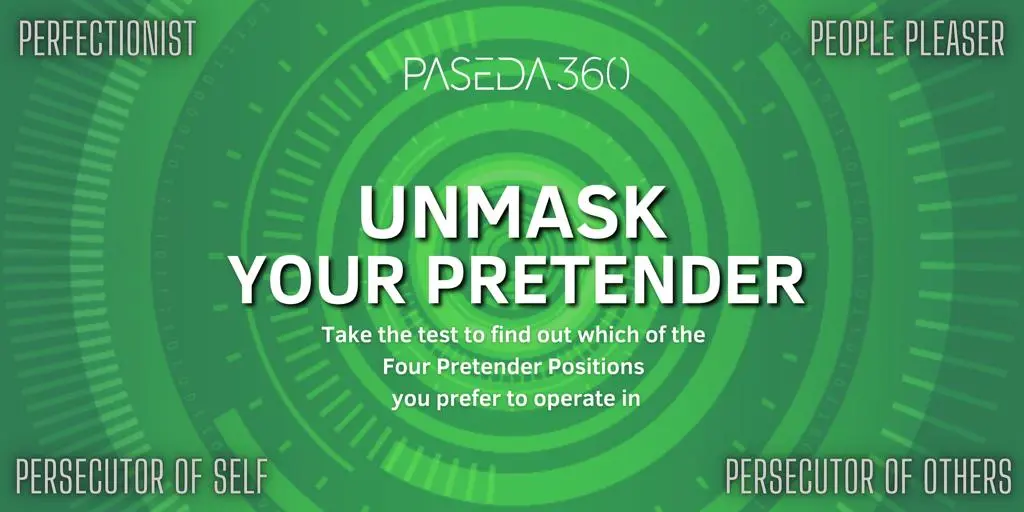 Want to find out how you Pretend?
Want to find out which of the four Paseda360 Pretender Positions you prefer? Take our 10-minute test to find out. The results will be sent to your inbox at the end of the test.
The goal of this test is to determine the identity of  your preferred pretender position.
Your Pretender masks your true self and engages in 'worst-self' behaviours. Therefore, this test will ask you for your most likely behaviour when you are stressed, tired, trying to fit in, under pressure, or out of your comfort zone.
You won't find positive behaviours represented in the test as it's not looking at how you show up when you are being the authentic, best version of you.
Examine the following 13 questions and indicate which option best describes how you might think, feel or behave at your worst.
Answer honestly, and choose the answer based on your first instinct. Do not be tempted to change your answers to what you think it should be.
The Paseda360 Pretender Behaviours Test
Find out which of our FOUR PRETENDER POSITIONS YOU ADOPT THE MOST.
Are you obsessed with perfection?
Do you tend to beat yourself up as part of your daily routine?
Are you quick to blame others when something doesn't go to plan?
Or is your preference to jump to please people?
You might be able to answer YES to all four of these questions.
And you'll answer YES to one of them more than the others.
You'll do this when you are in Pretender mode.
 So, let's first explain The Pretender.
The Pretender Model is a core construct of the Paseda360 Coaching Method, developed by Paseda360 creator and renowned coach, Angela Cox.   Through observations and conversations over thousands of coaching sessions, Angela recognised that people pretend when certain triggers are fired within them.
Pretending is essentially a protective mechanism, where the person masks their true self and brings forward their pretender.
Angela noticed that the pretender then uses one of four pretender positions.
The Perfectionist
The People Pleaser
The Persecutor of Self
The Persecutor of Others.
These positions activate a host of behaviours, thoughts and feelings, that are generally unhelpful and lead to the acquisition of shame, guilt, anger, frustration and resentment, to name a few.
Becoming aware of your pretender positioning is the first step to managing its retirement. 
Ready To Start Transforming Lives & Building A Sustainable Coaching Business?
Today's high performers, business owners and executives want transformational change, and you can be the person to help them achieve it as a Paseda360 Practitioner.